Merry Christmas everyone!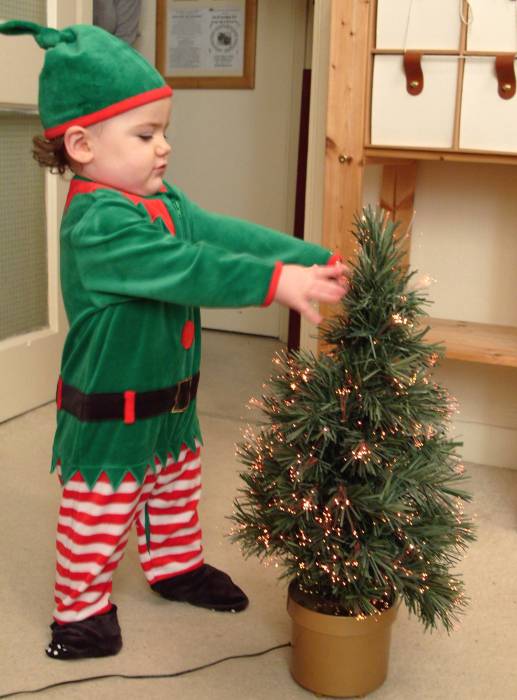 That's the only one of my top secret festive elf photos that Lisa hasn't leaked onto Facebook two weeks early. She doesn't like it because she thinks Amelie's hair looks like a mullet. Personally it's my favourite. She's got the self-satisfied look of a young Steven Seagal.
I think the double chin helps.
Anyhoo, if you've ever doubted just how much Amelie's grown in the past year, take a look at
last year's Christmas photo
. That's the same tree. We're using it instead of a height chart. Of course, that was back in the days when you could put her down for a few minutes, pop to the toilet, and come back safe in the knowledge that she wouldn't have climbed over the back of the sofa and be standing on the table with the phone in one hand, surfing the internet, eating a pen and pouring your tea all over the floor. Those were happy days.
It's odd though. Amelie's turned not only my life, but my entire flat and all my belongings upside down, and things would be a thousand times simpler without her. And yet, despite sitting here in a beautiful house on a peaceful, sunny Christmas morning with a cup of tea in my hand and nothing to do but relax... I can't wait for the girl to arrive.
That should last until about 3pm. At which point I'll start counting the minutes till bedtime.