My new flat had its first official visitor last night, when I welcomed over the threshold the lovely Lorraine, friend of Lisa, and mother of evil twins Oscar & Timmy. And like any good host, I laid on a sophisticated spread of nibbles. Well, I gave her a glass of Ribena and a digestive. She seemed quite happy.
Having undertaken the grand tour of the flat, Lorraine complimented me on my kitchen by saying that ordinarily she
hates
that shade of green, thinks it looks awful, and would never choose it in a million years, but that in
my
kitchen it works. Which was very sweet. She then settled down to tell us about her recent near-death experience in Canada. Apparently she was flung out of a 12-man raft at the
RiverRun Whitewater Resort
in Ontario, leaving her up the creek without a paddle, and trying to swim wearing nothing but heavy shoes and sunglasses.
Her exact words were
"I didn't think I was going to make it, and all I could think of was Oscar & Timmy"
. She then started talking about wills, and what might happen when she dies. So it's official - if Lorraine drowns in a freak boating accident, I get her cats. I've never been so keen for her to stay at home.
In other news, I got a letter from the TV Licensing people this morning informing me that due to my flagrant disregard for the law, officers from their Enforcement Division have now been authorised to visit my flat and interview me under caution, taking a statement in compliance with the Police and Criminal Evidence Act 1984, as their first step towards my prosecution. Which was obviously good news. Especially as my TV Licence was transferred to this address on June 27th. Fortunately another phone call to them this morning confirmed that my new address
is
registered with them, but apparently they can't be held responsible for the threatening letters their computer sends out by mistake. Marvellous.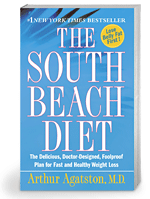 Anyhoo, while I'm waiting for my court date, I've decided to go on a diet. I've put on a stone in the past year, due to the stress of moving and the fact that Lisa's Mum won't stop giving me biscuits, and it
has
to stop (preferably the stress, not the biscuits). I've chosen
The South Beach Diet
, partly because I now live two minutes north of the seafront, and partly because the first line of The South Beach Diet Cookbook, which I bought for a bargain £3.99 (so I've already lost almost four pounds) from Book Depot the other day, is
"The South Beach Diet was made for people who love to eat"
. I didn't really need to read on after that.
Personally I like to think I have Prader-Willi Syndrome, but Lisa assures me I'm just greedy, so I think a diet is in order. Unfortunately I can't start it for another week, due to having lots of tasty food in my fridge, and the fact that throwing it away is against my religion. It's also my birthday next weekend. But having bought the cookbook the other day, I went into town this afternoon to buy a peppermill (you can't start a diet without the proper equipment), and wondered whether I should get the original diet book as well. Not inclined to fork out ten quid for a paperback, I started to ponder my chances of finding it in a charity shop. Whereupon I walked straight into Age Concern and bought it for 99p.
So if that's not fate, I don't know what is. Unfortunately the book's in pristine condition, so the previous owner clearly didn't get beyond day one. But I'm not letting that put me off.