Here in Kemptown we're already lucky enough to have a Polish grocer, a Polish delicatessen and a dedicated Polish section in Asda (and I don't mean the Mr Sheen aisle), not to mention the Polish party-planners next door, but I think this is going a bit far...
We've now got a Polish hairdresser around the corner. I'm no expert on Eastern European hairdos, but is a British barber really incapable of giving you the Lech Walesa look for under a tenner? I can't believe you have to be born in Warsaw to achieve this kind of style with a pair of scissors...
Lisa's uncle has been looking like that for years. But still, if you want to be asked where you're going for your holidays by someone who bought their hair gel in Kraków, you now know where to go.
Anyhoo, hairiness aside, Lisa and I went to Worthing for the afternoon yesterday to visit our friend H, who's recently bought a bungalow there. She's not old, she's just too lazy to climb stairs. I was actually very impressed with the place. Her bedroom's bigger than my entire flat, and she's got a hamster in the lounge. It's my ideal home. On the downside, you can't see through the impressive 15-foot window at the front since her boyfriend caught a stone in the lawnmower and shattered the whole thing a week after moving in.
Having completed the guided tour within twenty minutes, we headed for The North Star (which is nearer than you'd think), where Lisa tried to order something which wasn't on the menu, before stealing all my chips and walking the wrong way out of the car park. We then rounded off our afternoon by popping into the Portslade branch of Sainsbury's, where the girl on the checkout offered me a free fridge magnet...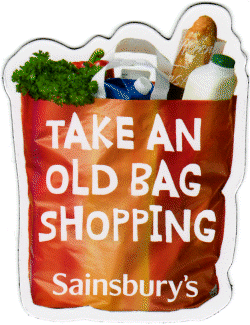 She could obviously see I had Lisa with me.