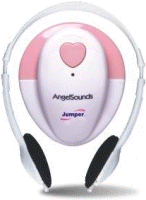 When I said I'm doing overtime to pay for nappies and maternity wear, I was of course lying. I'm actually doing it so that I can afford to surf the internet buying cheap imported baby gadgets from China. I was halfway through a cheese and ham bagel at lunchtime on Thursday when Lisa phoned me from work to say that one of her colleagues had mentioned that you can buy
"things which let you listen to the baby's heartbeat at home"
. Ten minutes later I'd ordered
one from Amazon
. I couldn't afford to hang around - Lisa's only pregnant for another five months.
The manufacturers obviously understood the urgency, and having received my order at 1:45pm on Thursday, they managed to deliver the thing at 8:30am the next morning. It's called a 'Foetal Doppler', and is named after a famous Austrian physicist of the 19th century. Which is surprising because the name Foetal sounds more Dutch to me. I was obviously keen to give it a go, but sadly Lisa was out with friends on Friday evening, so I was forced to stay at home alone, reading the instructions and wondering if it would work on a cat.
Fortunately those instructions kept me entertained for hours. I'm not sure who wrote them, but I don't think English is his first language. Here's what the back of the box says...
Fortunately Lisa soon returned with my future baby in her belly, I plugged in the cable of recording, and like a family doctor, it allowed us to enjoy a private communication of kicks and blows with our prenatal baby.
So for anyone not at my side who wants to share the happiness...
The way that heart's pounding, I think it's already panicking about who its parents are.