It's me and Lisa child-free!
I admit there are more romantic places to pose for a photo than a multi-storey car park, but when you've managed to escape the clutches of your daughter for a few hours, you can't afford to be fussy. I told Lisa I'd show her the high life, so there we are on level 7.
As it happens, Amelie spent last night in St Leonards. At least that's where she
said
she was going. I knew the time would come when she insisted on staying out all night, I just didn't expect it to be before she reached nine months old. But my Mum kindly offered to take her off our hands for twenty-four hours as a practice run for the end of August when I plan to whisk Lisa away for her birthday. Don't tell her though, obviously.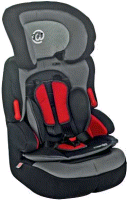 Ironically, despite being childless for a day, with the opportunity to do anything we please, we seem to have spent most of the time doing things for Amelie. Lisa's cooked all her food for the next few days, I bought her the car seat on the right, then we went to Asda to stock up on weaning spoons.
But we did manage to fit in one romantic occasion: a trip to Prezzo, my favourite Italian restaurant down at the marina. We last went there
eleven months ago
, when Lisa was pregnant and I was fat (well, fatter). In fact we also ate there on
the day of Amelie's ultrasound scan
, so she's actually been there twice. Although she's never set eyes on the place. This time I ended up with one of the nicest meals I've ever eaten (and I've eaten a few), so if you're unsure what to order, I can highly recommend the Ravioli di Pollo. It's worth every one of the million calories it contains.
Anyhoo, all good things must come to an end, so we're off along the coast now to pick up our daughter. I told the babysitters we'd be there at 12:30pm, so we should be in the car by now. In reality, Lisa's in the shower and I'm in my pyjamas. Anyone would think we're reluctant to have her back.