It's me and Lisa relaxing in a luxury double room with seaview at the Hilton Brighton Metropole!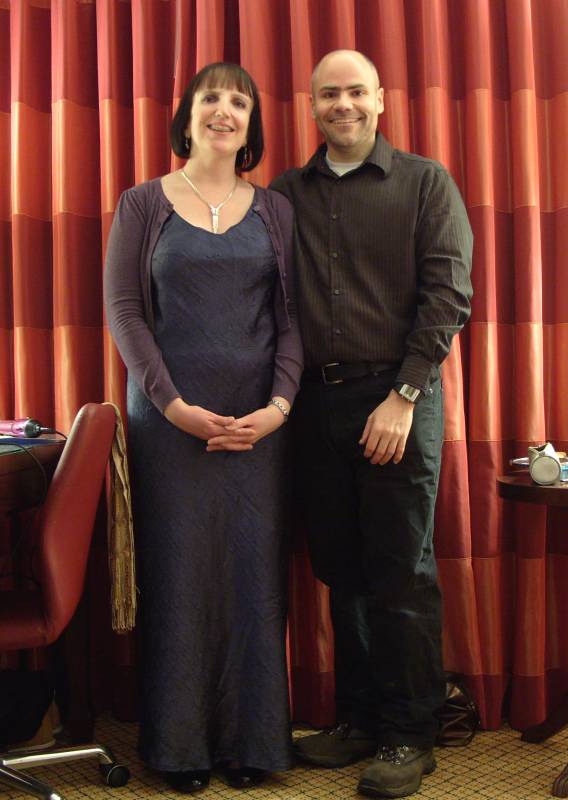 We had to take that photo quickly and get out of there before the owner came back. We could never afford a room like that.
We actually spent yesterday at the 2010 Brighton AA Convention. It's becoming an annual event for us - we went
last year
and also
the year before
. So you'd think Lisa would know her way around by now, and not head into a cupboard when she's looking for the toilets. Sadly that wasn't the case. To be honest, I could have done with Amelie's baby reins.
At previous conventions, our £7 entry fee has entitled us to free pens, notepads and hug coupons (or firm handshakes for non-members). This year we got a linen bag...
I had no idea Wordsworth was an alcoholic.
Anyhoo, having wandered lonely as a snow cloud through the icy streets of Brighton, we made it to the Metropole in time for the main meeting yesterday afternoon. And very good it was too. The organisers seemed to have learned from last year and booked people who not only had something to say, but could say it in English, and with a microphone that actually worked. This time it was the message which resonated, and not the feedback from the PA system.
With the meeting over, Lisa caught up with a couple of old friends, while I bumped into an old TV presenter I used to love in the early nineties. It's surprising how many of my favourite people in this world seem to be recovering alcoholics. It doesn't bode well for Amelie.
But anyhoo, that done, we headed into town through a major blizzard, only to be apprehended by a policeman outside Churchill Square. I thought for a moment he'd discovered that I sometimes put Pink Lady apples through the self-service checkout at Asda as Golden Delicious, but it turned out that he'd seen Lisa drop her Bill bag in the snow, and was just returning it to us. Frankly it was impossible to get rid of that thing.
With the weather a little inclement, we decided to return home at teatime for something warming. Like a radiator. It turned out to be a bad decision. By the time we headed back out again, the buses had stopped running due to icy conditions. Not that we
knew
that. Although by the time we'd stood at the bus stop in freezing conditions for twenty-five minutes, we had a pretty good idea.
So with little alternative, we jumped in the car and drove (well, slid) back to the hotel. The car park costs more than three quid an hour, but it's still cheaper than a taxi. And besides, I didn't want to be stuck in a snowdrift with the meter running. Once there, we rendezvoused with a friend who was staying the weekend at the hotel, stole her key, and went up to her room to change for the disco. And take photos. Ten minutes later we were on the dancefloor, jiving the night away to the sobering sounds of Michael Jackson and other assorted drug users. An hour after that, we were failing to win the raffle. And by 11:15pm we were moonwalking upstairs with sore feet to collect our belongings.
It was just as Lisa finished pulling up her tights and putting her shoes on, that the door opened and our friend's room-mate walked in. I wouldn't mind, but no one told us she was sharing a room. Two minutes earlier, she'd have seen us undressed. Five minutes later, we'd have found her in bed. We timed that getaway to perfection.