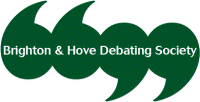 Lisa and I were planning to join the
Brighton & Hove Debating Society
last night. No, really. We'd had a debate about it and I won. The topic for yesterday's discussion was 'Religious tolerance is the key to world peace', and as someone who likes a good argument about peace, I was keen to join in. Especially as it only costs a pound.
Unfortunately I wasn't feeling very well yesterday (physically
or
mentally), and didn't quite feel up to slagging off Scientology in public. So sadly we had to cancel our plans. I'll have to wait another month to start a riot in Hove.
But the good thing about sitting at home with a bag of mini Aeros, refusing to go and have a shower, is that you have plenty of time to enter your own name into Google. It's the modern equivalent of finding yourself.
I've discussed here before the stirling work being done by American high school students who are being forced to study my Micro Fiction in their 12th grade English class. There was
Vinny
, who slightly missed the point,
Walfrey
, who wrote about the literary element of symbolization,
CuriousLittleLena
, who saw jigsaw puzzles as a metaphor for life, and
htrinidad
, who was the only one to get anything right.
Well I've found another one.
Luke D
, who's more luke warm than red hot, says this about my story '
Bringing Home the Bacon
':
"This story has one central theme: Sheila, the main character, trying to convince herself that she is not a loser for writing a paper on the importance of pigs in the bacon industry to win a prize."
I'm beginning to think these people are having a laugh. I'm not searching for any more, it only upsets me. But on the bright side, Luke mentions his teacher's name elsewhere on his blog, and being a highly experienced stalker, I've been able to track down a group photo of the whole class. They all look old enough to know better.
Anyhoo, while I'm here, I'd just like to say thank you to 'Jackie' (possibly the magazine) who e-mailed me last night to let me know that Andrea Foulkes used to model jewellery for QVC. It's a more accurate description of a past life than Andrea's ever managed, because
it turns out to be true
.
I particularly like the comment on that messageboard from Marzy:
"She's a good looking woman but oh, that voice. I think it's got worse since she was a model on qvc. It totally does my head in!!!"
Which is more or less
what I said
. Apart from the good looking bit.