I want a friendly fox...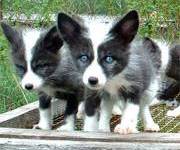 ... apparently they wag their tails.
Anyhoo, I'm back in Shotley Gate, and if there's one thing I've learnt, it's that you can tell how bad the weather is by the size of the snowmen you encounter. Brighton snowmen can be kept in the freezer compartment of the fridge, Ipswich snowpeople require a chest freezer, while the Shotley Gate variety need a refrigerated lorry. The one on the grass outside my flat is bigger than I am.
I've also learnt that if you leave your flat empty for five days on the coldest week of the year, it'll take more than a two-bar electric fire to warm it up. I've been back for twelve hours and I still haven't taken my gloves off.
But despite Lisa's attempts to hide me under the duvet, I think it was a good decision to return home last night. Suffolk is fast disappearing under a six-inch blanket of snow, and the roads of the Shotley Peninsula are treacherous in the extreme.
Which makes it a good time to dial up the Tesco home delivery service. They can afford to lose a couple of delivery men...