It's interesting the things you accidentally record when you start the video running early for The Simpsons. I could be dreaming, but I seem to have a tape of Tony Blair playing 'You Say, We Pay' on Richard & Judy.
It's not every day you see the Prime Minister trying to guess the word 'courgette' from clues given by Vivian from Lee-on-the-Solent. Anyone would think there was an election looming. Apparently Gordon Brown's planning to retaliate by doing 'Spin a Winner' on Des & Mel tonight.
Anyhoo, this afternoon I received a visit from
this
woman: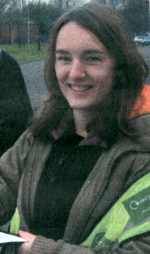 It's ok, I didn't force her to have her photo taken on my doorstep, I actually recognised her from the front page of last week's Hadleigh Advertiser. She's a member of 'The Sort It Crew' (which sounds like a hip-hop act), who are described as
"a four strong team of waste awareness promoters"
. I haven't seen a more appealing job description since the council last advertised for Master Composters.
Her and her posse - sorry, I mean crew - are touring the district going through people's bins and giving them advice on waste disposal. We had a very interesting and informative chat about orange juice cartons, after which she stood there at the top of the steps, outside the entrance to my first-floor flat, looked me in the eye, and said "Do you have any garden waste?"
I told her I don't have room for it. My ride-on lawnmower takes up most of the space in my kitchen.