I've had a postcard this morning from my sister-in-law who has spent the past week holidaying in the flood plains of Cornwall with my brother and niece.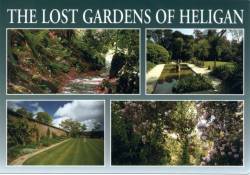 She says...
"Yes, they really are lost! A big reward is offered - scrutinise the picture and start looking... we might be able to seek our fortune and rest on our laurels (or Hardy's). As for the holiday, oh yes... it's been raining. Every day. What fun! Am at present sitting on beach under overcast skies pretending we are enjoying ourselves..."
My five year old niece has added to the artistic merit of the postcard by drawing a picture of herself in her sun hat. They're so optimistic at that age aren't they.
Meanwhile, Lisa visited Venice yesterday (I'm completely ruining her holiday tales by revealing what she's been up to before she gets back - she'll thank me for it, I'm sure). She's promised me a postcard, but personally I'm holding out for a Cornetto and a set of blinds.
Myself, I'm holidaying in Shotley Gate, which is ok since the local free paper have kindly published a pull-out guide to what to do over the bank holiday weekend. Sadly they didn't bother to deliver it to me until 8pm last night, but hey, you can't have everything.