The thing about getting up at 4am is that when you've done it once, it quickly becomes habit. So Sunday evening drives down to Brighton are definitely a thing of the past now - it's Monday morning jaunts from here on in. As a result, Lisa and I made it to bed remarkably early on Sunday night. I'm sure we were asleep by 2am.
As my brother said to me on Saturday "I take it Lisa's job doesn't involve her having to stay awake". Which is an outrageous thing to say. How does he think Lisa manages to write so many pointless e-mails and blog posts if she's asleep at work?
Anyhoo, I spent an action-packed Monday in Brighton asleep on Lisa's bed, before meeting her from work and allowing her to cook my tea. Sleep-deprivation-induced mania then set in, and she insisted we put on some David Bowie and have a dance. We also discussed the lyrical merits of the Senators song
Don't Mess Around With Me
(
"It's funny how certain you can be in doubt, And how much you can want to punch someone you love in the mouth"
) and decided we'll definitely have that one played at our wedding.
I then reversed the trend of late departures from Brighton, by leaving the place before 1am and attempting to make a dent in the Gardner Polo Mountain by sucking my way through another two packets on the way home.
This morning my Big Sis has e-mailed to ask my opinion on whether she should move to
this
downtown Dallas loft before Lisa and I go and stay in January...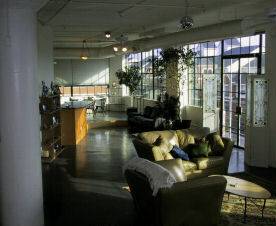 Personally the rooftop swimming pool doesn't appeal to me at all, and I prefer my little two bedroom flat with panoramic views of my neighbours' wheelie bins, but I've told her I could probably put up with it for a couple of weeks, so if she must, then ok. But if she thinks I'm cleaning all those windows, she's sadly mistaken.