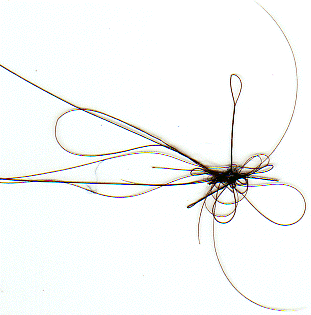 Lisa called me into the bathroom late last night in a state of barely suppressed panic, demanding that I remove a spider from the bathroom scales. To be honest, after an evening of fish, chips and pancakes with ice cream, I'm surprised she wanted to go near the scales, but she did, and the fearsome arachnid was keeping her at bay. So I bravely headed in there armed with nothing but a glass and a piece of cardboard, and at great personal risk, managed to successfully remove...
... a knot of her own hair. I keep telling her it gets everywhere. Spiders are nowhere near as common. But still, it gives me plenty of material for my
Simpsons wig factory
.
Anyhoo, the reason for the takeaway food was the arrival of Lisa's mother for an evening of eating, chatting, watching TV, and falling asleep on my sofa. Having sponsored my moustache to the tune of £5, I think she wanted to check the state of her investment, and I have to say she seemed very happy. Well, she couldn't stop laughing. It amounts to the same thing. She was very impressed with the rate of growth I've achieved, so I told her it's a sign of manliness. That just made her laugh even more.
But the good news is that Lisa's sister has offered me an extra pound if I grow a moustache like Blakey from 'On the Buses'. Obviously I'll do anything for charity, but there's a thin line between lovable sitcom character and fascist dictator, and that's not a line I want to cross. It might not go down too well at a job interview.
And talking of things which don't go down too well, I bought a bottle of
Reggae Reggae Sauce
on Monday. I'm a big fan of Dragons Den, and having seen Levi Roots (or Keith, as I like to call him) being told
"there's no business in this"
by Duncan Bannatyne, and then informed by Theo Paphitis that he had
"very little hope"
of ever getting it into supermarkets, I decided it was about time I bought a bottle from Sainsburys.
It's actually quite nice (Reggae Reggae Sauce, not Sainsburys), but having opened the bottle on Monday night and dipped a sausage in it, I noticed it says
"Once opened, refrigerate and use within 5 days"
. Eh? It's the size of a bottle of ketchup. The only difference is it's spicier, so
you use a lot less
. I like eating as much as the next man, but how am I supposed to get through a whole bottle of spicy sauce by Saturday? Has Levi never heard of preservatives? It's no wonder he's selling gallons of the stuff - you have to buy a new bottle every week.
I tried to get Lisa's Mum to have it on her haddock, but there was no persuading the woman. Give it another twenty-four hours and I'll be adding it to my tea just to get rid of the stuff.