I walked around the corner to the local charity shop yesterday afternoon, and passed this letterbox in College Place...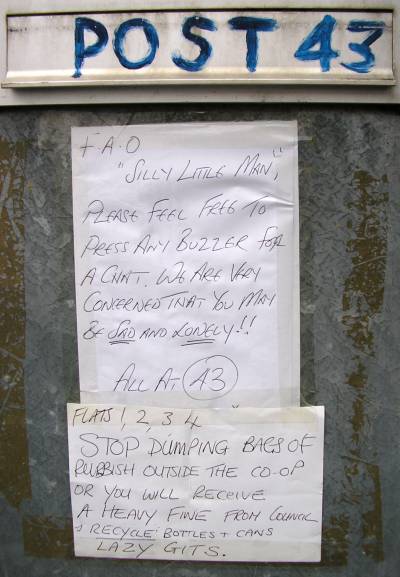 This must be the Kemp Town community spirit I keep reading about. I presume the first note is from the Lazy Gits, and the second from the Silly Little Man, but I could be wrong. Still, it's nice to know they're working through their problems. Communication is so important.
And talking of communication, I took the
ESA English Test
yesterday afternoon, and I done good...
Yes, I can officially speak the language well enough to chat to aliens. Lisa only managed 96.9%, but that's because she thinks doves are members of the falcon family. Bird knowledge is a basic requirement of space travel, so frankly Lisa's going nowhere. As for the memory test, she claims she'd have done a lot better if my cat hadn't repeatedly dawdled past the computer screen while she was trying to enter her answers. Personally I have my doubts. Two hours after getting her results, she said to me
"What did I get in the memory test? I can't remember"
. I don't even think she was joking.
Anyhoo, it's only twelve weeks until Lisa's waters break, so I decided to spend yesterday trying to fit our Rock-a-Tot car seat into the back of my Skoda. It was given to us (the car seat, not the Skoda) by Lisa's sister, who assured us that it hadn't been in a crash, and that with a bit of luck the vomit stains would probably wash out. She was right. So having put the cover through the washing machine, and the rest of it through a shower in the bath, I was ready to strap it into the car.
Unfortunately, being a baby product, it was naturally so complex that even an ESA astronaut would struggle to work it out. Which is where the internet proves so handy. I was able to download the
17-page manual
from the manufacturer's website. Whereupon I found that you have to adjust it all to fit your baby before you can fit it into your car. So that's another job for my October to-do list.
In the meantime I decided to head off to Argos to buy a new stereo. I attempted to fix mine on Friday night, as a result of which it now doesn't work at all. Putting a complicated piece of electrical equipment back together isn't as easy as you might think. Especially when you lose half the screws. So having already spent eight hundred quid on a new computer, I handed over another £120 for the item on the right. We then popped next door to Asda, where we bought a pack of six babygros for £4, two bibs for £2 and two luxury sleepsuits featuring giraffes and zebras (I wish they did them in my size) for just £4. Frankly the baby's a lot cheaper to run than I am.
But the credit crunch aside, today's an exciting day, because Lisa and I are off to mix with some of the biggest names in showbusiness. And that can mean only one thing:
it's the RSPCA Open Day at Patcham
.