I'm on annual leave all this week, which means I can take Amelie out every day...
I've never seen anyone so pleased to be wheeled down to Asda on a Wednesday morning. That girl's having the time of her life.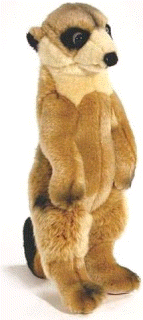 She was pretty happy yesterday afternoon too, when I took her along Western Road and we discovered that you can buy cuddly meerkats for less than a tenner. With the exception of Chloe, they're probably her favourite animal, and she spends many a happy minute watching their regular broadcasts on ITV. I've been trying to teach her what the meerkat says (the answer being 'Simples!') but so far, she's struggling to move on from miaow.
Interestingly, however, in the past week or so, the meerkats have been replaced at the top of Amelie's tree by a new advert, which she seems to like even more. As befits an experienced
NHS poster girl
, she's now become obsessed with the government's new anti-smoking campaign.
The moment this little film comes on, she rushes up to the TV with a mouth wider than Macauley Culkin in Home Alone, and laughs along to the song for a full thirty seconds...
I think it's because 'Quit Kit' sounds like 'quack cat', and they're two of her most frequently used words.
As the video above demonstrates, I discovered last night that the advert is on YouTube, so shortly before leaving for Asda this morning, I played it for her on the computer, in the hope of capturing her excitement as she laughed at the futility of the pro-smoking Forest chumps...
She didn't
quite
reach the peak of delirium that I was expecting, but I do like the way her face drops when it finishes. I was still sitting there ten minutes later, pressing 'Replay' for the twentieth time.