AT LAST!!!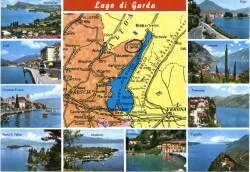 A mere eight days after everyone else got their postcards, and in more time than it took a scruffy bear to make his way from Italy to Shotley Gate via Brighton (in a cheap plastic bag), Royal Mail has seen fit to deliver my little piece of holiday love from the lady in the lake, who informs us that
"weather good although at the moment chucking it down"
.
Of course, it's a complete mystery as to why my postcard took so long to get here.
Well... maybe not a
complete
mystery...
Towards the bottom of the postcard, the words
"Non scrivere al di sotto di questa riga"
are printed. But hey, not everyone speaks Italian - they get a lot of foreign tourists. No problem, it's in French too:
"Ne pas ecrire au dessous de cette ligne"
. Of course, some people gave up French to do Home Economics, so let's have the German version:
"Bitte nicht unterhalb dieser linie schrieben"
. How come the Germans are the only ones to say 'please'? They're so polite. Not like those Spaniards:
"No escribir debajo de esta raya"
.
But for anyone more inclined to speak loudly and wave their arms about, rather than learn a foreign language, there's also the English version:
"Do not write below this line"
.
So naturally there's a blank space of virgin postcard below, right? Er, wrong. Instead it's filled with an important message from Lisa:
"P.S. Not sure stamp will be enough - woman a bit vague."
It's a miracle I got the thing at all.