Brace yourself for a serious interlude...
Back in June 2003 my pal Helen rang me up to tell me that she'd just played a CD of my songs to a friend of hers named Russell, who just happened to own a recording studio (as you do), and that he'd liked one of my songs enough that he wanted me to go and record it in his studio. Having fought off a major panic attack and crisis of confidence, I did so, after which he invited me to play at a garden party he was holding a week later. Cue panic attack number two, followed by a ten minute appearance on stage with guitar.
Well I received a phone call from Helen at 6:30pm last night to say that Russell had died from a heart attack in his sleep on Friday night. He was only 49. I wouldn't normally mention such things on this blog, but Russell did more for me than he probably ever realised. I had no confidence at the time, and very little self esteem, but by showing an interest in my music and encouraging me to do things I never thought I was capable of, he did a huge amount for my self belief, and helped make me the annoying ego-maniac I am today. If I hadn't met him, I'd probably still be cowering in a corner somewhere, refusing to say boo to a goose (a giant mountain goose, that's if you've read
Mirkin Topp
).
Having worked wonders for my confidence in the summer of 2003, I then wrote
Be Worth It
in the autumn and named one of the lead characters after Russell. So I'd like to consider that to be be my little memorial to him.
Here's a picture of Russell, Helen, and me looking like a rabbit caught in the headlights...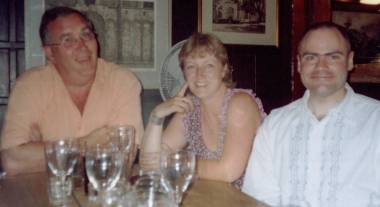 Anyway, it just goes to show that you never know what's just around the corner, and you need to make the most of what time you have. Which is something Russell definitely did.
So with that very much in mind, I put down the phone and went out in public looking like this...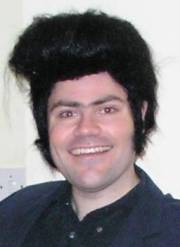 ... which is what happens when you know people who insist on getting married as Elvis.
Yes indeed, it was
Crash n Donna's
wedding party in Ipswich, and a very successful affair it was too. I was slightly concerned when we arrived at the Gainsborough Labour Club to find that I was the only one in a wig, but fortunately it turned out the party was down the hall in another room.
We successfully handed over our gifts - a smoking baby and a figurine of Elvis dressed as Jesus - and they were placed on a table with the other items attempting to win the prize for 'Tackiest Gift Under a Fiver'. I particularly liked the pack of paper serviettes which said "Welcome in 1996", and the straw donkey was truly horrible, but sadly we were all pipped at the post by a dancing Hawaiian girl with a dodgy motor. I still feel we were robbed, but what can you do - it's all politics if you ask me.
We then settled down for 'Barry Barnes - A Tribute to the King'. Personally I though Barry looked more like Freddy without the Dreamers, and he appeared to be singing along to an old gramophone record which kept jumping every ten seconds, but fortunately Donna's brother soon sorted out the technical hitches (from behind a smokescreen of dry ice), and the show went on, with Bazza giving it his all.
Which is more than can be said for the DJ, who made it through the evening without so much as a murmur. He did start waving his arms around towards the end of the night (presumeably in anticipation of receiving his fee), but otherwise he remained motionless, sitting behind a desk at the back of the stage.
Fortunately though, his music succeeded in getting Lisa and I to our feet, and we set the dancefloor alight in a manner not seen since Quentin Wilson did Strictly Come Dancing. I needed to burn off a few calories, since I was the only person in the room who managed four trips to the buffet. I'm not proud of it, but it was (a) free food, (b) nice food, and (c) only ten yards away, so frankly what do you expect.
Anyway, a good night was had by all, and Crash n Donna got through the evening without a major row, which is all you can ask for. So congratulations to the happy couple!