My main website received its 10,000th visitor today. Which just goes to show what you can achieve with an army of Jail Babes fans and a few mentions of Julie Reinger. Though I'm still waiting for my first hit as a result of someone actually searching for
me
.
But to celebrate this important milestone, here's a rare photo of Lisa...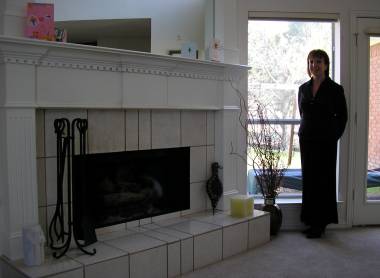 Lisa relaxes in her luxury home next to the state-of-the-art marble fireplace.
I was going for the 'Hello magazine photo-shoot' look.*
Anyway, as you can see, Lisa and I had a lot of time on our hands yesterday. Big Sis had to work late, meaning we had plenty of time to try out the jacuzzi in her bathroom. After a lot of consideration, we've decided we prefer jacuzzis to baths, in the same way I decided on Friday that I prefer first class to economy. I'm just not suited to the poor lifestyle.
Having received word at 6pm that Sis was going to be even later than anticipated, Lisa and I baked cinnamon rolls to keep us going. We were due to go out for a meal, so we limited ourselves to just three each.
Once home, Big Sis drove us over to the Saltgrass Steakhouse and dropped us off (indicating that it's probably another high-risk crime area). Sis has been a devout vegetarian for the past fifteen years, and spent ten minutes the other day talking about her hatred of country music. So you have to wonder why, when asked to recommend a restaurant, she went for a steakhouse with stuffed animals on the wall, which plays non-stop country music hits. I think she's trying to mess with our heads.
But we had a nice meal, the highlight of which was when the waiter turned up before we'd even finished the main course and asked if we'd like some cheesecake. I said I might do, expecting him to return with the dessert menu, only for him to turn up two minutes later with the biggest wedge of cheesecake I've ever seen. Now, I
love
cheesecake, and I also have a neverending capacity to eat, but this particular slice would've fed a family of five for a week.
So let's just say I left the restaurant feeling slightly ill. 10,000 isn't only the number of website visitors I've had. It's also the number of calories I ate last night.
*
Lisa would like to make it clear that just because she's allowed this photo to appear on the web does not mean that any fellow bloggers who might be in possession of certain photos of her sitting next to a dodgy bloke in a wig, are allowed to publish such photos. Your cooperation in this matter is appreciated. And besides, she can take you down with a skipping rope from ten yards, so it's really not worth it.