Well, despite the fact that I was the only person in a half-empty theatre who wasn't a pensioner or a student, 'Death and the Maiden' turned out to be very good. The three actors were particularly impressive. There was Catherine Prendergast, who has apparently appeared in 'Casualty', 'Holby City' and 'Doctors'... (so she obviously looks permanently ill)... John Ashton, who according to the programme "played the doomed Martin in last year's TV London gangster drama 'Family'"... (ie. shot dead in the opening scene)... and Rolf Saxon, who has an impressive list of credits, including the role of Lieutenant Briggs in 'Saving Private Ryan', Philip Jones in 'Tomorrow Never Dies', and William Donloe in 'Mission: Impossible' (he's listed in the credits right above Jirina Trebicka who plays the pivotal role of 'Cleaning Woman'. Really, I've checked).
However, having researched Mr Saxon's work on the internet this morning, I've found out something
far
more impressive about him which, strangely, the theatre programme managed to omit. Probably due to pressure of space. But I'm happy to set the record straight here, so brace yourself...
HE'S THE NARRATOR ON TELETUBBIES!!!
How fantastic is that? I've seen a live performance from the bloke who talks about Tubby Custard for a living, and tells us that "Teletubbies love each other very much". I wish I'd got his autograph now. My niece would've been thrilled.
Anyhoo, whilst at the theatre, I also picked up information on an upcoming performance. Back on
January 7th
, young Melee advised me to read a book entitled 'The Mole Who Knew it was None of His Business'. It was a book, so obviously I didn't bother. But lo and behold...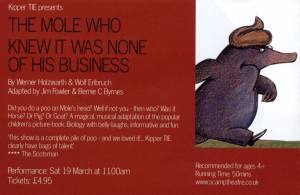 ... the stage version is coming to the Wolsey theatre for one night only. Well, one morning only. The only problem (apart from the fact that it's a show about... um... poo) is that I'll be in America at the time. But I'll be expecting a full review from Melee. It says it's suitable for ages 4+, so I think she'll be allowed to go.
In other theatrical news, I received an e-mail this morning confirming that
Ledgers
is going to be performed in Chicago. Which sounds impressive until you realise we're talking a school hall here, and a bunch of 15 year olds. But even so...
In slightly less good news, I'm supposed to be driving down to Brighton tomorrow and bringing Lisa straight back here for the Elvis event of the year on Saturday. I've bought a wig and everything. Unfortunately the view from my living room window currently looks like this...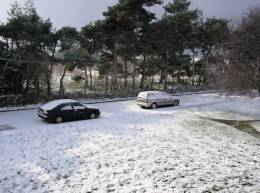 Anyone got a snow plough?