Godzilla's still at large...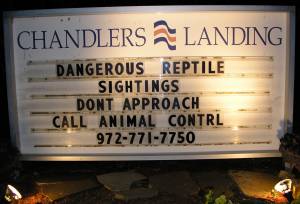 Where's Steve Irwin when you need him, that's what I'd like to know. I'm dicing with death here. And I'm not sure my travel insurance covers reptile slayings.
But anyhoo, we successfully escaped the scaly creature of the night (and I don't mean Big Sis), and made our way to Southfork Ranch yesterday afternoon. I ditched my winter coat and teddy bear gloves in favour of my NaNoWriMo t-shirt and liberal quantities of sunblock, so I think the three coats and two jumpers I packed may not get a great deal of use this week.
Having arrived at Southfork, we trawled the gift shop for a souvenir for Lisa's friend Lorraine. She'd asked for the third series of 'Dallas' on DVD. She's not going to get it. Frankly she was lucky not to end up with a novelty watering can and a golf ball. But I'm sure she'll love what we chose.
We paid our $8.95 apiece for the guided tour and made our way into the Dallas Museum (a plastic gun and a couple of newspaper clippings) before embarking on the tram ride (a tractor pulling a trailer) over to the main house where we were given a twenty minute talk in the garage. We narrowly missed out on the award for 'Furthest Travelled Visitor' to a woman from Finland, although it was nice to hear an American guy confidently putting himself forward for the prize - he'd come all the way from Massachusetts, so was convinced he'd win. I don't think he was aware of the existence of other countries.
The lecture over, we made our way upstairs and sat on the bed next to the 'Do not sit on the bed' sign, before heading down to the swimming pool and being accosted by a Canadian woman who claimed to know Torquay. I mentioned Fawlty Towers and she looked at me blankly, so I think she was making it up.
We then chatted to the tour guide who was standing around drinking a cup of coffee. She mentioned Cheltenham, I mentioned horse racing, she took a photo of us with my camera, we walked off, whereupon Big Sis told us the woman hadn't been drinking a cup of coffee, she'd been holding out a cup for tips. Honestly, if you're begging for money, at least make it a bit more obvious. The woman's only got herself to blame.
Numerous photos later, we crossed the driveway to 'Miss Ellie's Deli' for ice lollies, then Lisa and I tried on stetsons (I was clearly born to be a cowboy - I haven't looked so good since I wore my Elvis wig), and I bought a cowgirl hat for my niece. We then left Southfork behind and made our way to BJ's Brewhouse for pizza. The waitress told us enthusiastically that they brew their own beer, and went through the various options with us. After which we all ordered diet cokes.
Interestingly, they charged extra for each additional pizza topping, up to four, after which there was no further charge. Obviously I couldn't resist that. So I went for seven toppings. My pizza was about three inches tall.
From there we went to the Grapevine Mills mall, where I was emotionally scarred by a nail bar last year, and ate ice cream at the Cold Stone Creamery, where I accidentally (ie. deliberately) conned the confused assistant and got Big Sis's Vanilla and Snickers ice cream for free. We then went to the opticians next door where Sis chose some new glasses. After rejecting mine and Lisa's advice, she turned to the assistant for help with her selection. He looked her in the eye with a pained expression and said "Madam,
no one
chooses red frames". Big Sis had chosen three.
Fortunately she was outvoted, and we persuaded her to go with the tasteful black frames. Although as we all agreed, there's a fine line between 'cool' and 'NHS'.
Today we're heading into downtown Dallas for a tour of the city's murder sites. So brace yourself for another sensitive message in the Sixth Floor Museum guestbook...