How does one go about selling a photo to a postcard company..?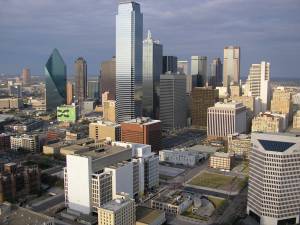 I think I could make my fortune here. I've even got a convenient bit of sky for the words 'Greetings from Dallas'. Or possibly 'Howdy from Dallas'. The only things missing are the giant reptiles.
Anyhoo, after eating leftover pizza for breakfast, we successfully made our way down to the west end of Dallas yesterday afternoon for a spot of sightseeing. First stop was the JFK memorial. I'm pictured there last February on my main website's
photos page
, looking distinguished and statesmanlike. A year on and I've lost none of my quiet composure...
(Note: Lisa has been cropped out of this photo for legal reasons).

Well ok, maybe I wasn't quite ready for that photo. But the back of my head looks remarkably good in a baseball cap. It hides my bald spot.
Having taken several pics, we made the diplomatic decision to scarper, after Big Sis overheard three American guys comment on how insulting it was to stand on the monument and pose for photographs. So we retreated to a safe distance, from where we watched as the three blokes in question promptly climbed on to the monument, lay down, and whipped out their cameras. And they say Americans have no sense of irony.
From there, Lisa and I headed for the Sixth Floor Museum in the old book depository building, while Sis indulged in a bit of sunbathing on the grassy knoll. The museum display was both interesting and informative. In particular we learnt that Chubby Checker wasn't chubby, and that Governor Connolly's wife had something to say about everything.
To be honest, we'd only gone there to sign the electronic guestbook and appear on the web, as Sis and I had done last year. Unfortunately, having been through the whole museum, including enduring a display of dodgy American art about the resilience of the human spirit in the wake of 9/11, which turned out to be a few paintings of hamburgers with words like "the burger is an all-American totem of hope", we found to our horror that they no longer have the computerised guestbook. Presumeably because people from Britain abuse it by attempting to post bogus messages on an irony frequency so high the yanks can't hear it. But undeterred, we made sure no one was looking and signed the old fashioned paper guestbooks instead.
I wrote
"JFK opened my heart and touched my soul. The museum rocks
". While Lisa went with
"This museum has inspired me to get back to painting"
. I'm sure the curators appreciated our efforts.
Having spotted Sis on the grassy knoll from the window where Lee Harvey Oswald shot the Prez, I shot Sis with my camera, and we made our way back outside and bought hot dogs from a bloke who was prominently displaying a phone number for customer complaints.
We then hopped back in the car and drove to the Reunion Tower. At least, we
tried
to. It was only about a quarter of a mile away, but we took a wrong turn and ended up at a 7-Eleven in gang country. But on the plus side they sold an interesting range of aphrodisiacs and slimming pills. Possibly illegally. It's not every day you find a shop selling horny goatweed.
Ten minutes and two more wrong turns later, we made it to the Reunion Tower (from where I took the photo above), and ate cheesecake in the revolving restaurant at the top. Then it was back home via bail bond country (incorporating strip joint country) and the local liquor store, after which I drank the night away with a bottle of cherry flavoured cough medicine.
I'm still coughing, but my tongue's a lovely shade of red.