It's exactly one year today since I met Lisa, and already we're growing apart...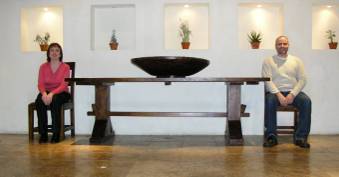 We should probably get a smaller table. It might bring us closer together.
I'm actually writing this at 1pm, which is when we met this time last year, shortly after Lisa had emerged from the toilets at Victoria station, spotted me across a crowded concourse, and rung her friend to say she could see me and I didn't appear to be armed. But of course germ warfare is easily concealed.
So to celebrate the fact that we've known each other a year and haven't tried to kill each other yet, and to give us another excuse to eat something, we're going out tonight to an Italian restaurant, in an effort to recreate our first meal together on March 23rd last year. It's like a Crimewatch reconstruction. But with slightly less blood.
Of course, if it's 1pm here in Texas, it's actually 7pm in the UK, so this time last year we were in Pizza Hut. Not that I want to give the impression that all we do is eat together. Sometimes we drink too.
Anyhoo, not only is it one year since I met Lisa, it's also
1 year, 4 months & 22 days
since I watched the Japanese film 'Ring 2' and failed to understand a word of it (despite the presence of subtitles). Which is relevant, because last night Lisa and I had the pleasure of seeing the American version at the local cinema. And not understanding that either.
We went with Big Sis and her pregnant friend to 'Movies 8', Rockwall's finest multiplex, where they chose to see 'Man of the House', with Tommy Lee Jones reprising the role made famous by Richard O'Sullivan in the 1970s. I think. Lisa and I preferred to go down the horror road. Neither of us had seen the first film, but I'd enjoyed both Japanese versions, and could very nearly remember what they were about, so we thought we'd be ok.
Being a highly anticipated sequel, and with Movies 8 charging a very reasonable $6 (three quid) per ticket, I was expecting a packed cinema. Sadly it didn't seem enough to tempt the local residents - Lisa and I turned out to be the only ones there. I expect everyone was at home watching 'Robin's Nest' on cable.
Anyhoo, the film was mostly rubbish, but it did have one very scary moment. It was the bit where the woman from the ticket desk suddenly walked through the squeaky door at the back of our empty cinema an hour into the film. Lisa nearly jumped out of her skin. But other than that, I wouldn't recommend it.