It's the last day of our holiday, and I've finally fulfilled one of my lifetime ambitions...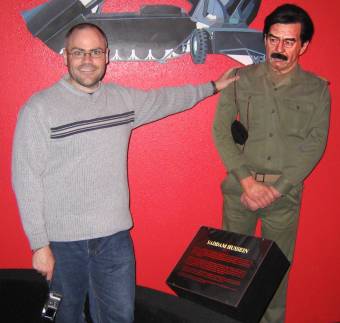 Yes, that's right, I've met Saddam Hussein. Although judging by his expression in the photo, I don't think he was quite as pleased to meet
me
. He looks like he's comparing moustaches. Which is a bit unreasonable - I've only had three days to grow mine since the stetson photo.
Anyhoo, yesterday was our last full day in Texas, so we decided to make the most of it by heading over to Fort Worth in search of the zoo and the world famous (apparently) stockyards, where they regularly have as many as six cows. We'd formulated a detailed plan, which basically involved stopping for ice cream three times, so I was quite looking forward to it. Unfortunately we had reckoned without the Texas weather, which decided to bucket down with rain all morning. Julie Reinger would've been hysterical. But then she always is.
We delayed our departure by an hour, which I'd like to claim was to give the weather a chance to clear, but in reality was because I was still writing yesterday's blog post. We'd already abandoned the zoo idea by this point, after I'd very nearly managed to convince Big Sis that Lisa has an unhealthy obsession with poking aardvarks (she'll believe anything), but we set off optimistically for the stockyards. Via Braum's ice cream parlour.
By the time we reached Arlington the rain was like Sis's power shower, and Six Flags Over Texas looked empty (I
knew
we should've listened to that sign). We stopped for petrol, and having ventured three feet from the car to the petrol pump, Big Sis took the executive decision that a tour of outdoor cowboy country might be a bad idea. She wanted to head for a mall instead, but being a tourist with a taste for tack, I had other ideas, and after a short discussion (in which Lisa wisely chose not to take sides), we did a u-turn and set off for...
The Palace of Wax.
Hurrah!
It's a dual attraction - half waxiness, half 'Ripley's Believe It Or Not'. I'd been to the one in Great Yarmouth, so I knew it was top quality entertainment. The Ripley's exhibit was especially fine. I particularly enjoyed the two-faced kitten, the two-bodied calf, and the goats which fall over when you give them a fright. My cynicism hit an all-time high though, when presented with a picture which they claimed had been painted in just 52 seconds by a woman called Conni Gordon. Having examined it in detail, and realised I couldn't paint something like that in 52
years
, I publicly declared it to be a fraud, and considered asking for my money back.
So naturally I was thrilled to get home and find that you can
watch her paint it
on the internet. But hey, I'm sure I didn't make myself look stupid. That Mexican family definitely agreed with me.
Having exhausted our reserves of incredulity, we entered the Palace of Wax. It proved to be both interesting and educational. Particularly the display of historical political figures. And George W Bush. Keen to record the occasion on film, I asked Lisa to pose for a photo in front of Abraham Lincoln, prompting her to look around blankly and reply "Which one's that?". Which I didn't think could be topped, until thirty seconds later when Big Sis called me over to the other side of the room with a shocked expression on her face, and declared "I didn't know Martin Luther King was black!".
At which point I headed straight back to 'Ripley's Believe It Or Not' and told them I had a new exhibit for them.
An hour of waxy fun later and we headed to the Stonebriar Mall, via the Grapevine Mills Mall, where we picked up Sis's new glasses and had our second ice cream stop of the day. At Stonebriar we requested a table at 'The Cheesecake Factory', then popped into the bookshop next door where I bought a book called 'How to Win at Texas Hold 'Em Poker for Five Bucks'. It cost... $5.43. That's tax for you. I plan to read it on the plane on the way home, and make my fortune in the world of online poker. It shouldn't be too difficult.
At the Cheesecake Factory I ate... um... Shepherd's Pie. Followed by some obligatory cheesecake. It was very nice. The Shepherd's Pie I mean. The cheesecake was ok.
So that's it really. We leave for the airport in 90 minutes. Which means it's probably about time I started packing my things.
Put the Easter eggs in the fridge, I'm coming home.