Having read of my ills on my blog yesterday, my five year old niece turned up in the afternoon with a get well card, and one of her cuddly toys which she'd wrapped up in an effort to make me feel better. It worked. As did the festive artwork inside the card...
.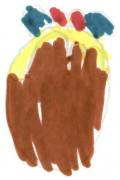 'Pudding - A Retrospective'


.........

by M. Gardner
... she obviously knows I like custard.
In addition I was kindly allowed (forced) to watch her video of 'Barbie of Swan Lake', which helped dull the pain a little by sending me into a semi-cataleptic state, before being treated to a demonstration of my niece's counting skills. Having made a century flawlessly, she asked me "Can
you
count to a hundred?". I said I could, but refused to prove it. So I don't think she believed me.
My medical condition has now deteriorated into a full blown cold, which I plan to upgrade to flu by this time tomorrow, and pneumonia on Tuesday, for maximum sympathy. But I've been perked up by an e-mail from a 15 year old American girl who's fallen in love with
Ledgers
, and wants to stage it at her school in Chicago.
It's probably illegal for fully grown men to e-mail under-age girls with scripts about suicide, smoking and swearing, but hey, I'm on the other side of the Atlantic - what's the worst that could happen?
You're right - I'll start packing my bags for prison.