I've found another photo of me in the Great Ormond Street Hospital sweatshirt...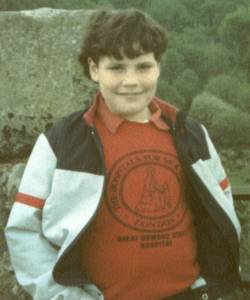 I also found three photos of Bruno Brookes which I took when I was 14. I've led a tragic life.
Talking of which, I was reading the website of Richard Herring (fish-based comedian) before the weekend, and was particularly taken with the idea of
Consecutive Number Plate Spotting
. The challenge is to spot every number from 1 to 999, in the correct order, on car number plates. It took the Herring a year and eight months to complete, and is clearly a pointless and highly stupid activity.
So I thought I might give it a go. I was slightly concerned by the rule which states...
"Be aware that once you take up the call to be a CNP spotter you have to see it through to its bitter end. You can't start up the game, decide it's rubbish and impossible and then stop. By agreeing to start you have signed a contract that you will do all in your power to complete the task, even if it takes 5 or 10 years."
... but I successfully spotted 1, 2 & 3 in sequence driving down to Brighton last Friday, so after a few days of telling myself "you really don't want to start this, it'll take years", I've finally given in and registered at
www.cnps.org.uk
, where my mighty total of 3 is already good enough for position number 402 on the leaderboard. I'm only 391 places behind
Emma Kennedy
, who I used to quite fancy when she did the film reviews on 'The Terry & Gaby Show'.
So now I'm looking for a number 4. Which makes it particularly annoying that so far this week I've seen three 5s, a 6, an 8 and two 9s.