Christmas wouldn't be Christmas without embarrassing photos.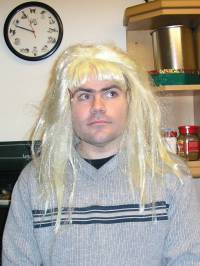 Unfortunately I don't have any.
But I did manage to put on a paper hat and eat myself into a coma. I think my stomach reached its maximum capacity at around 3:15pm, but interestingly I didn't stop eating until shortly after 7pm. Having consumed a second slice of chocolate cheesecake at approximately 6:15pm I informed my sister-in-law that I'd definitely gone too far, felt physically sick, and may very well throw up at any moment. Ten minutes later I helped myself to another slice of cheesecake.
My presents this year included 3000 sheets of paper and two printer cartridges (anyone would think I was a writer), enough petrol money for two trips to Brighton, and a pig dressed as Santa. While my brother decided that now we're both in our 30s he should go for a more mature gift. So he got me a radio-controlled plane. He's coming back in a few days so we can play with it together.
As for today, I'm off down to Brighton with my guitar for a bit of community singing in Lisa's living room. I'm taking chocolates in case the crowd turn ugly (or should that be uglier?), and as an extra precaution I've told Lisa to get them drunk before I arrive. So hopefully I'll be well-received. All I need now is a dog on a piece of string and a cardboard sign.
Oh, and before you ask, no, I'm not a natural blonde.