He looks nothing like me.
But fortunately he can sing, and what's more, we made it into Ipswich in time to hear it. We also arrived in time for the support act, who were worth catching. It's not every day you see three young men with a plug obsession, dressed in white lab coats and standing behind keyboards doing a cross between Kraftwerk and Gary Numan.
Here's a plug for their website: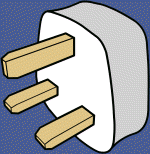 So that was 'Trademark'. Lisa turned to me after the first song and said "I think they've missed the boat by about twenty years", but apart from that they were quite good.
The Human League were better though. We were standing after only two songs (which is a shame - I paid good money for those seats), and we bopped our way through an hour and a half of 80s synth pop, some of which I actually recognised. It was surprisingly good anyway, and unlike our recent Beautiful South experience (which turned ugly), the Regent was reassuringly nutter-free. You get a better class of music lover in Ipswich.
Although Lisa did see someone throwing up in the foyer.