Today I am mostly listening to...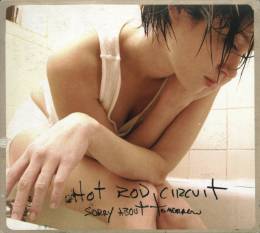 I got it in a Brighton charity shop on Monday. Obviously I'd never heard of
Hot Rod Circuit
, and I only bought it for the picture on the cover, but the good news is it's actually very good. Although it turns out the girl on the front isn't in the band.
Anyhoo, against my better judgement, I ended up staying in Brighton on Tuesday. Mainly because Frankie Dettori was riding at Brighton racecourse that afternoon. Sadly I didn't get to meet him though. Possibly because I refused to pay the £12 entry fee. But they
were
selling his pizzas at Asda, so I bought one of those instead.
I eventually arrived home shortly before 2am on Tuesday night. There were no traffic jams on the A12 this time. Oh no.
This time
they'd closed the whole road. But it meant I got to see the backroads of Colchester from behind a juggernaut at 35mph.
Yesterday I was busy being useless, but in a coincidence of gargantuan proportions, there was a horse running in the 9:05pm race at Epsom last night called 'Depressed'.
It came second. Beaten by a neck. So that did a lot for my mood. And who was riding the suicidal nag? Yup, our Frankie. That man has a lot to answer for.