Forty-eight hours after the King's national exposure on R & J, I thought I'd see what impact it's had on my web traffic. Naturally I've been expecting a flood of visitors to converge on Nick's website on the back of his media whorage, only to be carefully shepherded over here via his links page, resulting in a bumber crop of new Phil Phans. So I've checked my site statistics, and the scores on the doors are...
Zero. I'm still averaging about 70 hits a day for my
Brighter than Sunshine page
, but so far no refugees from daytime TV. Which is simply not good enough.
So I've attempted to whip up a bit of interest by starting a quality debate on Channel 4's
Richard & Judy Forum
. So far no one's joining in, but I'm sure it's only a matter of time. I'll give it a couple of hours, then I'll start slagging off Richard Madeley, and see where that gets me.
Anyhoo, today is polling day. Which means Lisa's nephew has the day off school (presumably to go door-knocking for the Lib Dems), so I'm bracing myself for an afternoon of death and mayhem on the Playstation. Obviously I'd rather be watching the horse racing - sorry, I mean doing some serious writing - but it's important to invest a bit of time in the younger generation. And he does seem to enjoy shooting me with rocket launchers.
This evening, Lisa and I are finally going to see the $218 masterpiece which is...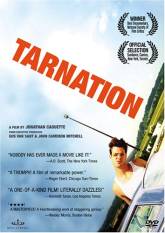 It's been on at the local arts cinema since April 22nd, so naturally we've left it till the final performance of the final day of its run before getting our tickets. So I hope it's not a film which needs a second viewing to fully appreciate it, otherwise we could be in trouble.
But I've prepared myself for the experience by reading
the director's blog
. Having only spent $218 on the film, you'd think he could've afforded to splash out on a bit more than a free Blogspot template, but never mind. I've read the reviews, and the Boston Globe describes Tarnation as
"a heartbreaking work of staggering genius"
, while the LA Times claims it
"literally dazzles"
.
So if I come back heartbroken, staggered and dazzled, I might not be in a fit state to write a blog post tomorrow.