I woke up early this morning after not much sleep, put my arm around Lisa in an I-don't-want-to-get-up kind of a way, whereupon she opened her eyes and told me she'd dreamt I'd won the Last Laugh competition. So I trotted off with a spring in my step to check the post, and lo and behold... oh yes, it's true...
I found a letter from the SCDA informing me that I've failed in my bid to get my hands on Richard 'I Don't Believe It' Wilson's money, by spectacularly
not
making the final shortlist of 12 in their 2005 playwriting competition.
And there were only 71 entries.
I'm beginning to get annoyed now. Am I the only person in the world who thinks
Be Worth It
is any good? (Don't answer that). I still think that darn play is the best thing I've written. But obviously I'm alone in that opinion. Dammit.
But hey, one of the winning plays was entitled 'Don't Get Your Vicars in a Twist', so there was obviously a lot of quality about.
Anyhoo, Lisa and I successfully made it to Portman Road for the Neil Diamond concert last night. Photography of any kind was strictly prohibited, so obviously no one took a camera...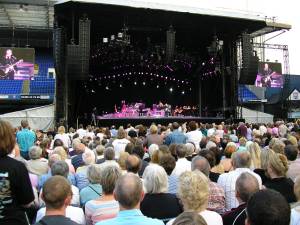 I was the only person standing up too. I wonder why?
Anyway, the speck in the middle is Neil, and the speck next to him is his walking frame. Notice the number of bald heads and grey hairs in the audience too. I'm not saying Neil's fans are old, but I did feel like I was at a pensioners rally.
But the show was good, although for the second time in six months, Lisa and I found ourselves seated next to the only nutter in the building. It was a woman (again) on her own (again) who told us that half her family were at the concert too, but hadn't wanted to sit with her. Alarm bells were ringing at that point. But she wasn't too bad. As long as you like being told when to stand up and sit down, and being hit by extra wide hand-claps every two seconds.
She told us she'd come all the way from Norfolk. My money's on Sheringham.
But anyhoo, I successfully tapped my toe to numerous songs I'd never heard of, made the most of 'I'm a Believer' by singing along at a loud volume (although Neil wasn't a patch on The Monkees), and quickly picked up 'Sweet Caroline' to such an extent that I was able to annoy Lisa by joining in on every chorus and doing the actions. (There aren't actually any actions, but I made some up).
There's no doubt about it - Neil may be a bit of an old wrinkly, but he can still belt out a tune. Although I was disappointed Barbra Streisand hadn't popped over from the States for 'You Don't Bring Me Flowers'. He had to do it with his backing singer instead. (Sing the song I mean).
Right, gotta dash. I need to get Lisa to the church on time...