Today Lisa and I have fulfilled lifelong ambitions by visiting...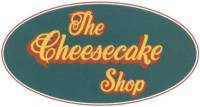 I forget what we ate. Oh yes, cheesecake. And very nice it was too. Despite it being day two of my birthday (which this year is lasting 72 hours), we restricted ourselves to one slice each, and resisted the temptation to hand over a tenner and leave with one of their pig-tastic giant whole cheesecakes. Though next time I'm alone and fed up, you can bet your life I'll be heading straight into Ipswich with a ten pound note and a spoon.
We also made it as far as Boots, where I bought a bottle of 'Stubble Stop', a magic potion which claims to slow the rate of beard growth. With Lisa objecting to being sandpapered by my face on a regular basis, and me objecting to shaving more than once every 36 hours, it's a much needed product. Though it says it takes 8 weeks to work, so we'll be close to October before Lisa stops complaining.
With diets and beards well and truly behind us, we headed on to a secret location on the outskirts of Ipswich, where we surreptitiously engaged in an activity which I cannot possibly reveal on this blog. At least not until tomorrow. But it involved taking our shoes off and handing over money. I offered Lisa a few tips on her technique, and we both left satisfied.
We stopped for dinner at The Oyster Reach, which is STILL refusing to sell oysters (there's just no telling them), and I succeeded in eating a main course plus extra side dish, and still having room to finish Lisa's main course and try her dessert too. Which just goes to show that cheesecake isn't filling. But hey, it's my birthday (still), so I'm allowed to pig out.
Which is why we're embarking on day three of my gastronomic tour of Suffolk tomorrow, by heading for 'The Compasses' (I think it's something to do with drawing circles) in Holbrook for my
official
birthday meal. To quote Big Brother's Nadia (go Nads!), I'll be "a whale on walking legs" by Sunday.