You haven't lived til you've seen the sun rise over the scaffolding outside your living room window. Yes, it's still there. The new chimney may have been completed a week ago, but obviously the builders believe in giving every opportunity to the local burglars, by leaving that ladder up against the side of my flat for as long as possible. Fortunately though, I cunningly left my living room curtains ajar whilst I was away, to enable any would-be thieves to see that I have nothing worth stealing. I also left Cedrick, my tacky stuffed camel, by the window to really hammer home the point.
I only mention Cedrick as a tenuous link to my good friend Marie, who is 25 years old today. So I'd like to wish her happy birthday, despite her tendency to bring me back dodgy stuffed camels from her trips to Egypt, which just end up leaking sawdust all over my desk.
In celebration of this special event, here's a picture of her ear with a paperclip through it.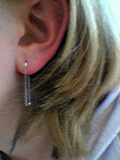 The spirit of punk lives on.
Anyhoo, I continued to push the boundaries of how late you can leave Brighton on a Monday night before you actually have to admit you're leaving on Tuesday morning, by rolling out of Lisa's flat at 1:35am last night, armed with two packets of crisps, a can of Coke, and four, count them,
four
packets of Polos - my biggest haul yet. I don't even have to see Lisa's mother to collect them - I arrived on the Friday to find a note and two packets waiting for me. The chocolate seashells I bought as a thank you obviously went down well, and a further two packets was forthcoming on the Monday evening. My tongue's never been so sore.