It's good to see the big wedding of the weekend went by without a hitch...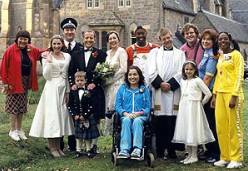 Forget Charles & Camilla, I was watching the Balamory wedding on CBeebies. It had all the pomp and ceremony of the royal event, but with more black people and gay policemen.
As for The Grand National, well there's one thing you can count on when you know that bookmakers will pay out on the first five places, and that's that your horses will finish 6th, 7th and 8th. Dammit. With two fences to go I had Innox in second and Heros Collonge in third. I thought I was rich. As it transpired, they were passed late on and came in 7th and 8th.
But nil desperandum.
Well he finished 6th.