Ten days ago, whilst browsing the freaks - sorry, I mean 'special' people - at Ripley's Believe It or Not in Dallas, we came across the story of 'The Ugliest Woman in the World'. I was surprised they'd heard of Sally Gunnell in Texas, but as it turned out, the display was nothing to do with her, and was in fact about Julia Pastrana, who lived in the mid 19th century and looked like this...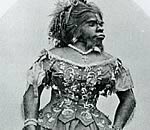 She's quite foxy. Well, she looks like a dog. But on the plus side, you have to say her waistline's quite impressive.
Anyhoo, in a spooky coincidence, it seems she's coming to the Theatre Royal in Brighton. Well, not
her
- she died in 1860 (although I believe she was then stuffed and continued touring) (seriously) - but rather a play entitled
'The True History of the Tragic Life & Triumphant Death of Julia Pastrana, The Ugliest Woman in the World'
. (A bit of judicious editing wouldn't have gone amiss there).
Obviously a play tackling the subject of extreme facial deformity is going to be visually shocking, requiring a lot of expensive prosthetic make-up and accurate period costumes.
Unless of course, you perform it in the dark. Yes, that's right, according to the Brighton Festival brochure, this play is
"performed in absolute darkness"
. No wonder the front row seats are so reasonable. Personally I like nothing better than to get all dressed up for a night out, and then pay £18.50 to sit in the dark for two hours, but unfortunately I won't be able to go - I've got tickets for Derren Brown in Ipswich that week. Hopefully with some form of lighting.
But as compensation, Lisa and I are planning to go and see a film entitled 'Tarnation' at the Duke of York's Picturehouse - an arts cinema in Brighton. It's a 90 minute movie made by an American teenager about his own life, and according to the film guide was made for just $218. So it should be good. I'm expecting state of the art special effects and a lot of car chases.